Roll over image to zoom in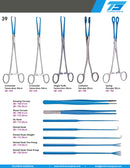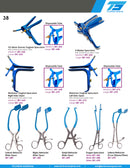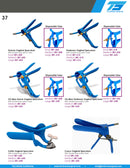 Description
Schroeder Uterine Tenaculum Forceps comes with a ratchet and finger ring long and narrow handle, used in Obstetrical and Gynecological (OB/GYN) procedures that need to stabilize or manipulate the cervix or uterus. Usually used in Dilation and Curettage (D&C) and Abdominal or Vaginal Hysterectomy. Schroeder Uterine Tenaculum Forceps are also used to grasp/hold and move arteries and vessels during anatomical procedures.
Schroeder Tenaculum Forceps features 2 prongs; sharp pointed but traumatic hook-shaped tips are flattened from inside and angled inward at 90 degrees. Single tooth prongs overlap each other at the tip and provide a strong grip on the tissues and are also traumatic.
Nylon Coating/Insulation provides superb non-conductive Schroeder Tenaculum Forceps for LLETZ/LEEP Electrosurgical Procedures.
Techron Surgical provides high-quality non-conductive insulation that ensures safety against the electric current to Patients, Surgeons, and staff.
| | |
| --- | --- |
| Material | German Stainless Steel SUS420J1 |
| Size | 10" (25.0cm) or 14" (35.5cm) |
| Style | Straight |
| Handle | Finger Ring Handle |
| Insulated | Yes |
| Tips | 1x1 Prongs |
|  Application | OB/GYN, D&C |