Roll over image to zoom in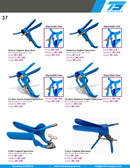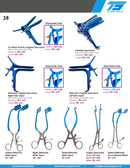 Description
Graves VU-More self-retaining bi-valved speculum is a surgical instrument used for vaginal and cervical examination. It has a jaw that opens up like a duck bill. Graves VU-More speculum is used for introducing an intrauterine contraceptive device, taking a Pap smear, cauterization of vaginal erosion, and for colposcopic examination.
Graves VU-More Vaginal Speculum is available with and without Insulation. Our LEEP Graves VU-More Vaginal Speculum comes with Smoke Evacuation Tube Adapter to evacuate the smoke plume produced during the LEEP procedure. It also works as the vaginal wall retractor. Being self-retaining is the advantage of the Graves VU-More Vaginal Speculum. So no assistant's help was needed to hold and keep the speculum opened.
Durable metallic assembly with high-quality insulation for patient and user safety
Plane rounded structure for maximum patient comfort.
High-Quality nylon coating resists abrasion and provides superb insulation
Highly Non-Conductive for use during LLETZ/LEEP electrosurgery
Fully autoclave-able and Reusable
Techron Surgical offers a variety of sizes for all ranges of patient heights. Because of high-quality non-magnet long-lasting surgical graded stainless steel, durable insulation, lightweight structure, and easy-to-use mechanism, you'll really feel great pleasure after having Graves VU-More Vaginal Speculum.
| | |
| --- | --- |
| Material | High-Quality Non-Magnet Surgical Graded Stainless Steel SUS304 |
| Fastening Screws | Gold Plated |
| Smoke Tube | Yes |
| Insulation | Rhilson Nylon Insulation 7265 |
| Insulation Colors Available | Black, Blue, Yellow |
| Autoclave-able | Fully Autoclave-able |
| Reusable | Yes |
| Application | OB/GYN |
| Guaranty | Guaranteed against manufacturer's defects. |